Makeup Ideas for Halloween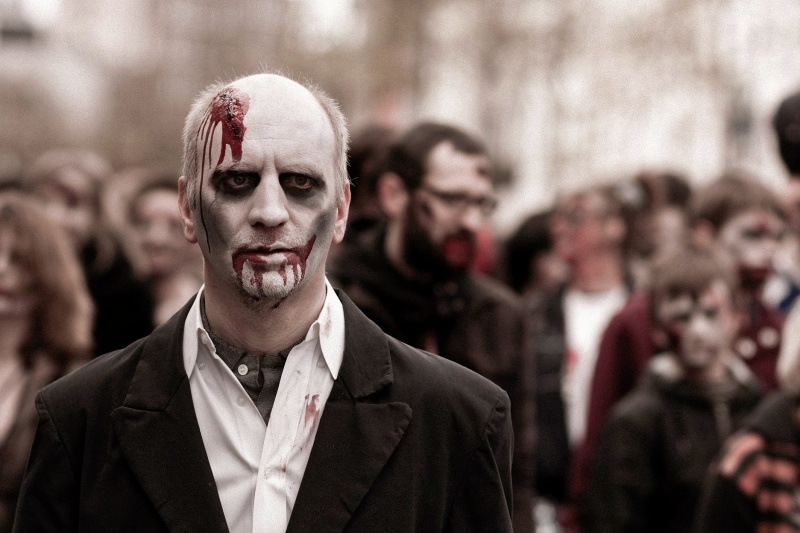 Halloween is the perfect time to get creative with your makeup! Whether you want to be a scary witch or a cute kitten, there are endless possibilities. Here are some of our favourite Halloween makeup ideas to get you inspiration.
1. Pumpkin Spice Eye Shadow
One makeup look that is perfect for Halloween is pumpkin spice eye shadow. To create this look, start by applying a base shadow in a light brown or beige shade. Then, use a darker brown shadow to create a contoured effect. Finally, highlight the inner corners of your eyes and the brow bone with a golden or orange shadow. This look is perfect for those who want to add a little bit of drama to their makeup without going too over-the-top. And best of all, it can easily be achieved with drugstore makeup products.
So go ahead and give pumpkin spice eye shadow a try this Halloween!
2. Vampire Blood Lipstick
If you're looking for a makeup look that's both spooky and sexy, look no further than vampire makeup. To create this look, start with a pale foundation and add contouring to create sharp cheekbones. Then, line your eyes with black eyeliner and smudge it out for a smouldering effect. For the lips, go for a deep red or plum colour. Finally, don't forget the most important part of any vampire makeup look: the blood. To create realistic-looking blood, mix red food colouring with a bit of corn syrup. Then apply it to your lips with a cotton swab or your fingers.
And just like that, you're ready to turn heads at any Halloween party.
3. Frankenstein's Monster Hair
One makeup look that is always popular around Halloween time is Frankenstein's monster. One key element to achieving this look is the hair. To get the perfect Frankenstein hair, start by applying a generous amount of gel to your hair, working it through from roots to tips. Next, use a comb to create a deep centre part. Then, use your fingers to tease the hair at the crown of your head. Finally, finish off the look by spraying your hair with hairspray. For an added touch, you can also apply some green makeup around your eyes to create a bruised and battered look.
With just a few simple steps, you'll be ready to transform into Frankenstein's monster for Halloween!
4. Mummy Face Paint
If you're looking for a unique makeup idea for this year's holiday, why not try your hand at mummy face paint? The best part about this look is that it's easy to achieve with just a few simple supplies. All you need is some white face paint, black eyeliner, and fake blood. To create the mummy effect, start by painting your face white. Then use the black eyeliner to draw on bandages around your eyes, nose, and mouth. Finally, add some fake blood around the edges of the bandages for a gruesome touch.
With just a bit of effort, you'll have a creepy and impressive makeup look that's perfect for Halloween.
5. Witch's Hat Nail Polish
What's the best way to show your Halloween spirit? With your nails, of course! This year, try out this Witch's Hat Nail Polish design. It's easy to do and only requires a few supplies. Start with a base coat of black polish. Once that's dry, paint a thin stripe of white down the centre of each nail. Then, using a toothpick or dotting tool, add three small dots next to the white stripe (these will be the witch's hat brim). Finally, paint a triangle at the top of each nail to complete the hat Design. Let your nails dry completely before adding a top coat.
And that's it! You're ready to show off your festive nails. Happy Halloween!
6. Spider Web Eyeliner
With a little makeup know-how, you can easily create a stunning look that will get you into the Halloween spirit. Take spider web eyeliner, for example. To create this eerie yet chic look, simply start by applying a base coat of black liquid liner. Then, using a fine-tipped brush, draw out thin lines radiating outwards from the inner corners of your eyes. Once you're happy with your design, fill in the gaps with more liner to intensify the effect. Voila! You're ready to enjoy a spook-tacular Halloween.
Conclusion
With Halloween just around the corner, it's time to start thinking about your costume! And what better way to stand out from the rest than with some creative and unique makeup? We've rounded up our favourite Halloween makeup ideas to get you inspired.
From Pumpkin Spice Eye Shadow to Witch's Hat Nail Polish, there's something for everyone.
So get creative and have fun this Halloween!